Album Review: Invasion of Privacy - Cardi B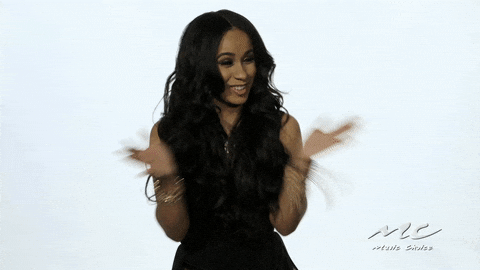 Overall, Invasion of Privacy, is an ambitious debut from pop raptress, Cardi B. Cardi has a knack for turning her misfortunes into anthems and this album is sonic proof. Below are my thoughts on some of the album's standouts.
Get Up 10 - opens the album and you don't have to be an avid rap fan to feel the influence of Meek Mill's Dreams and Nightmares. Get Up 10 is a hard-driving track that summarizes Cardi's tenacity and drive to climb herself out of her humble beginnings. On this track, Cardi is the motivational coach we never knew we needed.
Drip (feat. Migos) – The first few seconds remind me of Migos' One Time. Rap's Gladys Knight and the Pips rap endlessly about diamonds and other body parts dripping. Luckily, the rest of the album is strong, so the basic subject matter doesn't deter from the overall tone. Two things that stood out the most: The first line from Offset's verse is "You a thot, I ain't trickin." Eh. Not exactly a loving thing you want to say around or to the mother of your child and fiancé. Secondly, Quavo quips that he "got her addicted to payola... " I'm not sure who "she" is, but it sounds like an admission that Cardi B is as the New York Times put it, an artist that "shrink wraps her personality around beats." Nowadays it's less about the climb to become the best lyricist and more about capturing the attention of the public as fast as possible.
Bickenhead – This nasty woman's anthem has the 90s spirit of Project Pat, La Chat, and Gangsta Boo hovering over it – and that's not a bad thing. Bickenhead samples 90's hit Chickenhead and brags about being a woman on top of her business. This song is steeped in celebrating feminine sexual energy, unapologetically.
Bodak Yellow – Nearly a year after it's release, Bodak Yellow still gives me goosebumps. From the first few seconds of the song – you know something magical was in the studio that night. The lyrics aren't 100% relatable as Cardi speaks about "Bloody" Louboutin shoes and calling her haters "little bitch." While life would be grand if we could tell people off while counting our stacks, life as a 9-5'er doesn't work like that. Cardi does fantasy rap very well, the production is top notch and as her first smash single, Cardi B does well by mimicking other rappers she admires, in this case Kodak Black.
Be Careful – As the third official single, this stripped down rendition of a woman reluctantly accepting the possible end of her relationship is hard to ignore. Although the production is bare, the lyrics are cutting, to which Cardi's understated vocals give justice.
Best Life – This power of positive thinking anthem gives this project balance as one of the lighter songs. Chance the Rapper's presence also gives this project some perspective and intelligence.
I Like It – This instant banger is a soon-to-be #1 single of the summer. Call it the Amara La Negra effect, as people are more accepting of the connection between the African diaspora's influence on modern and Latin music. Production did a great job of seamlessly blending the Spanish vocals of J. Balvin and Bad Bunny with Cardi's brash and bouncy English delivery.
Ring (feat. Kehlani) – This has got to be the best track on the whole album. Snappy lyrics and Kehlani completely takes over the last third of this song with her pleas for a lover to act right and ring her up sometimes.
Money Bag / She Bad - I put these two songs together because I feel like they're two sides of the same musical coin. Money Bag is about getting the bag and reeks of a woman with an indefatigable entrepreneurial spirit. While She Bad, on the other hand, is that same woman after hours when she's handled her business and wants to let her hair down. Who can't relate to that?